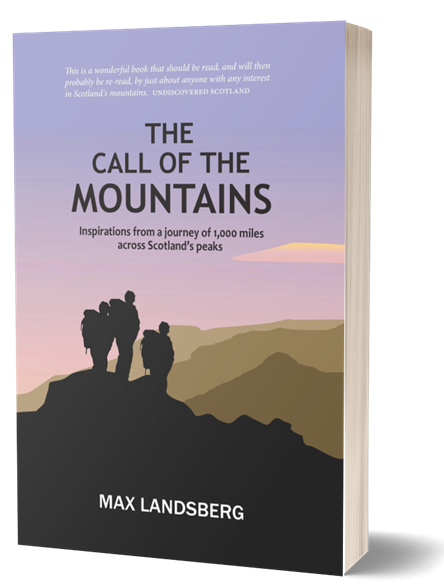 Just out in PAPERBACK, in time for Xmas!
And a bestseller in HARDBACK and KINDLE since 2013.


Top of the Christmas Reading list
Edinburgh Life - on initial publication 2013
One day I walked into these hills, and discovered their ridges and intervening glens.
I was lured to an adventure in which you too can revel. This book shows you how to experience the magic of Scotland's outstanding mountainscapes, in person or from your armchair.
It helps you:
Experience or re-live what it's like to climb a Scottish mountain ...
... and perhaps try a few summits yourself or with the kids!
See what's in store if you are tempted into the odyssey across all 282 of the country's highest peaks
Strengthen or reestablish your connection with nature
Loch Hourn
Scotland's 282 Munros (mountains of 3,000 feet or higher) may not be the highest in the world, but they are certainly amongst the most enchanting and awe-inspiring.

Born of primordial crust; rifted and faulted by earthquake and then gouged and shattered by ice; these mountains were once home to the Gaels and their kings - and now are haunted by their spirits and the stag.

Across the swooping moor, then through the craggy outcrops - guided sometimes by the silver chuckling burn and sometimes by the spatey cascade - we reach at last the grand summits above.

En route you will find tales of drama and humour, and bite-sized servings of history, botany, and geology, to feed the interested mind.
Graphics
Three types of illustration accompany the text: "Treasure Island"-style maps, coloured plates, and pen-and-ink drawings.

From the towering pinnacles of Skye, to the high rolling plateau of the Cairngorms; from the bonnie braes of Ben Lomond to the weeping cliffs of Glencoe; from the rocky battlements that encircle Loch Arkaig, to the gentle folds of Ben Lawers and Loch Tay beneath...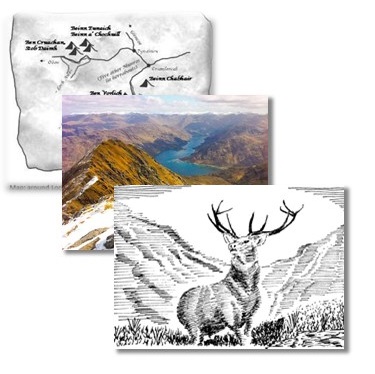 Reviews
"This book quickly drew me in. These journeys are precisely depicted through the author's perceptive eye for detail and his obvious passion for the outdoors."
Steven Fallon, mountain guide and record-holder for completing all the Munros 15 times

"Scotland has inspired legions of explorers and adventurers; this book will show you why. A wonderful journey through landscape, culture and obsession."
Myles Farnbank, Director, Wilderness Scotland

"Max Landsberg's description of Rannoch Moor is one of the best I've found so far...."
The Scotsman

"An interesting and worthwhile addition to the literature of the Munros and a book worth reading by anyone with an interest in the hills and hillwalking..."
Chris Townsend, one of the world's most experienced backpackers and outdoor writers - Choices of 2013

"... how a novice hillwalker develops into an experienced Munroist. Along the way his passion for the hills shines through his writing."
TGO magazine

"There's no shortage of Munro books but (Max's book) brings something different ... and it works rather well"
Scotland Outdoors

"This is a wonderful book that should be read, and will then probably be re-read, by just about anyone with any interest in Scotland's mountains. At one level "The Call of the Mountains" by Max Landsberg is a "how I compleated my round of Munros" book, albeit a particularly well written one. But there is so much more here too…."
Undiscovered Scotland

"…a must read book for all those with an appreciation of adventure and the great scenery of the North..."
Norman Maclean, Emeritus Professor of Biological Sciences, and author of "Silent Summer"

"… Distinctive … much of the insight and information that new or would-be baggers need"
Andy Howell, trekking and backpacking blog-master
Availability
Available from Luath Press, Amazon, and other retailers in paperback by Nov 30 in time for Christmas, and a best-seller in hardback and Kindle since 2013 !
UK >

US >
Amazon.com
Scotland: her hills, my journey ... your adventure